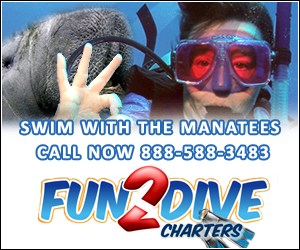 Fun 2 Dive Manatee Tours
888-588-3483
Swim with Manatees in Homosassa or Crystal River Florida. The most experienced manatee tour guides in the business will take you on an unforgettable tour where you'll get up close and personal with the manatees.
Our full day, all-inclusive manatee tours can be enjoyed by the whole family and no experience is needed. Not only will you spend all day with the manatees, we will educate you about the manatees during your tour.
Manatee Tours Conducted 7 days. TOUR PRICE includes all gear needed to swim with the manatees.
For bookings and information, call Captain Joe: 1-888-588-3483