Boating
Boating in Homosassa Florida is a privilege that shouldn't be taken for granted. We are fortunate to be able to enjoy all the beauty that this area possesses. From the magnitude of all the underground springs to the excitement of harvesting scallops in the bay on a hot summer day. From the ability to fish an immense area teaming with a huge variety of species to the amazing sounds of the huge family of bird life that frequents our skies. Let's all use common sense and become familiar with the basics of boating in our area.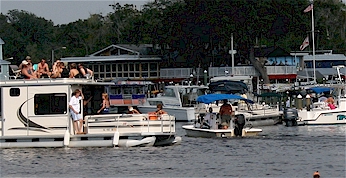 Safe Boating Precautions
US Coast Guard Equipment
Boat Speed Zones
Public Boat Ramps
Marinas
Artificial Reefs
Protecting Manatees
Protecting Seagrass
Native Habitats
Safe Boating Precautions
Every year hundreds of people are killed or injured in boating accidents in Florida. Most of these accidents could have been prevented if those involved exercised some basic boating safety precautions. Below are some safety precautions that responsible boaters take to make sure that their trip will be safe and enjoyable.
Observe and obey posted speed limits. When in doubt, slow down.
Watch your wake. Remember, you are responsible for damage caused by your vessels wake. Large wakes can overturn smaller vessels and damage personal property.
Use nautical charts in unfamiliar waters. Stay within marked channels.
Learn and use all boat navigational rules.
Plan your trip in advance. Use the appropriate nautical charts to reference depth, bridge clearance and other possible encounters before you leave.
File a float plan with a responsible person outlining your expected route and estimated time of return.
Do not operate a boat recklessly or under the influence of drugs or alcohol.
Wear your life jacket and make sure you have enough life jackets for all persons on board.
Monitor the weather through visual observation and the NOAA weather radio at 162.55 MHz VHF.
Have a written storm preparation plan. Prepare 48 hours early for tropical storms and hurricanes.
Enroll in a safety boating course. Contact Boat/U.S. Foundation at 800-336-BOAT or contact the FWC at http://www.floridaconservation.org/
US Coast Guard Equipment**
Personal floatation device (PDF's) must be available for each person on board. Children under 6 years of age are required to wear their life jacket on boats less than 26 feet long.
Fire Extinguisher is recommended on all power boats, and manadatory on certain vessels. Keep your fire extinguisher fully charged.
Sound Signaling Device – Vessels under 39 feet must cary a whistle, horn or other attention-getting device. Boats over 39 feet require both a whistle and a bell.
Visial Distress Signals – Various combinations of flares are used. A mirror is another excellent signaling device.
**The operator of a boat (owned, rented or borrowed) is responsible for having all the USCG required equipment onboard and in good working condition. Different sized vessels may require additional safety equipment. Contact the FWC Law Enforcement or US Coast Guard for more information.
Boat Speed Zones
Speed zones are abundant in the Homosassa and Crystal River due to the large populaion of Manatees. These zones are marked with signs in and along the waterways. Some examples of signs you might see are:
Idle Speed – No Wake is the minimum speed that will maintain steerage of the vessel while producing no wake.
Slow Speed – Minimum Wake is the speed at which the baot is operating off-plane and settled in the water while preceeding with little or no wake.
Public Boat Ramps
-Name
-Location
-Directions

Hours

Parking

Dock

Picnic
Table
Rest-
room
Canoe-
Boat
Rentals
Boats
Over
15′
Latitude
Longitude
Chassahowitzka River*
Chassahowitzka
W. Miss Maggie Drive
From US 19, turn W onto
W. Miss Maggie Drive
(1.8 miles)
dawn-
dusk

Y,H

Y

 

Y

Y

 
28º42.90N
82º34.62W
Cross Florida Greenway
Inglis
US 19 – From US 19,
turn onto boat ramp access
road on the south side of
bridge and either side of hwy

24 hrs

Y

 

Y

Y

 

Y

29º00.79N
82º39.96W
Dockside Trading Co.
Crystal River
Downtown Crystal River
Across from fire dept on US 19

24 hrs

Y,L

 
 
 
 

Y

28º53.95N
82º35.77W
Fort Island Gulf Beach
Crystal River
W. Fort Island Trail – From US 19
turn W onto W. Fort Island Trail
(8.9 miles)

24 hrs

Y

Y

Y

Y

 

Y

28º54.69N
82º41.55W
Fort Island Trail Park
Crystal River
W. Fort Island Trail – From US 19
turn W onto W. Fort Island Trail
(5 miles)
dawn-
dusk

Y,H,O

Y,H

Y,H

Y,H

 

Y

28º54.26N
82º38.08W
Inglis Damn
Inglis
Riverwood Drive – From US 19
turn W onto Riverwood Drive
(2.5 miles)

24 hrs

Y

 

Y

 
 
 
29º00.46N
82º36.97W
Mason Creek
Homosassa
Mason Creek Road – From US 19
turn W onto W. Yulee (3.2 miles)
Turn left on Mason Creek Rd. to end

24 hrs

Y,L

 
 
 
 
 
28º45.67N
82º38.02W
Old Homosassa
Homosassa
5300 S. Cherokee Way -From US 19
turn W onto W. Yulee (3.2 miles)
Turn right onto Cherokee Way

24 hrs

Y

Y

 

Y,P

Y,P

Y

28º47.11N
82º37.12W
Ozello Community Park
Ozello
N. Ozello Trail – From US 19
turn W onto N. Ozello Trail to end
(10 miles)

24 hrs

Y

 

Y

 
 
 
28º52.08N
82º39.90W
Yankeetown
Yankeetown
CR 40(county road 40) -From US 19
turn W on Follow That Dream Pkwy
(CR 40) to end (6 miles)

24 hrs

Y

Y

Y

Y

 

Y

29º00.08N
82º45.71W
*Airboat permit required       Y-Yes       H-Handicapped Accessible       P-Private
O-Overnight permit rquired       L-Limited
Marinas

-Name
-Location
-Latitude
-Longitude
Apprch
Depth
Ft MLW
Dock
Depth
Ft MLW
Boat
Ramp
Diesel
Gasoline
Bait
Tackle
Licenses
Repairs
Hull
Motor
Elec
Pumpout
Toilet
Shower
Laundry
Grocery
Hardware
Rentals
Boat
Kayak
Pontoon
Canoe
American River
Rendezvous
10386 W. Halls
River Rd.
628-2551
29º01.51N
82º36.33W

4′

2′

Y,$5

G

B

No
T,L
G,H
B,K,
P,C
B's Marina and
Campground
6621 Riverside Dr.
Yankeetown
447-2529
28º42.90N
82º43.23W

15-18′

5-6′

Y

D,G
B,T,L
Minor
T,S,L
G,H
B,K,C
Homosassa
Riverside Resort
& Marina
5297 S. Cherokee
Way – Homosassa
628-0622
28º46.92N
82º37.26W

3-4′

5-6′

Y

G

No
No
P,T
S, L
G,H
B,K
MacRae's
5290 S. Cherokee
Way – Homosassa
628-2602
28º46.92N
82º37.26W

3-6′

5-6′

Y

G

B,T,L
No

T

G

B,P
Magic Manatee
Marina
10806 W. Halls
River Rd.
Homosassa
628-7334
28º47.16N
82º37.20W

4′

5-8′

N

G

No
H,M,E

T

No

P

Natures Resort
Campground
& Marina
10359 W. Halls
River Rd.
Homosassa
628-9544
28º48.18N
82º36.35W

2-3′

2-3′

Y,$5

G

B,T
No
T,S,L
G,H
B,K,
P,C
Petes Pier Inc.
1 SW 1st Place
Crystal River
795-3302
28º53.52N
82º35.76W

8′

6-7′

Y,$5
D,G
B,T
H,M,E
P,T,S
G,H
No
Riverhaven
Marina
5296 S. Riverview
Circle
Homosassa Springs
628-5545
28º46.98N
82º37.32W

3-4′

3-4′

Y,$5

G

B,T
H,M,E

T

G,H
B,P
Riverside Marina
& Cottages
6451 Riverside Dr.
Yankeetown
447-2980
29º01.68N
82º43.14W

15-18′

4-8′

N

No
No
No
T,S
No

C

Twin Rivers
Marina
2880 N. Seebreeze
Point
Crystal River
795-3552
28º32.57N
82º23.11W

4-5′

15-18′

N

D,G
B,T
H,M,E

T

G,H
No
Yankeetown
Marina
15 Hickory Ave.
447-2529
29º01.44N
82º43.38W

15-18′

8-10′

Y

D,G
B,T
No

T

G,H
No
Artificial Reefs

Name

Material

Latitude
  Longitude 
Loran W
  Loran Y 
Depth
(Ft.)
Citrus #1
Big Bend Reefs

Concrete Tubes (24)

28º54.99N
82º52.29W
14396.2
45278.1

26

Citrus #2
Big Bend Reefs

Concrete Tubes (96)

28º54.78N
82º52.97W
14395.5
45281.5

26

Fish Haven

Concrete Culverts

28º44.50N
83º03.35W
14356.7
45305.8

30

Fish Haven

Concrete Rubble

28º47.46N
83º03.40W
14356.2
45305.5

30

Fish Haven

Concrete Rubble

28º47.33N
83º03.53W
14356.7
45305.5

30

Fish Haven

Bridge Rubble

28º47.26N
83º03.57W
14355.0
45304.3

30

Fish Haven

Fiberglass Boatmold

28º47.20N
83º03.66W
14355.0
45304.3

30

County Reef Site

Concrete Rubble

28º47.14N
83º03.67W
14356.2
45305.5

30

County Site #1

Concrete Rubble

28º46.90N
83º03.84W
14356.0
45305.0

30
Manatees are protected by the Marine Mammal Protection Act of 1972, the Endangered Species Act of 1973 and the Florida ManateeSanctuary Act of 1978. It is illegal to kill, wound, hunt, shoot, harm, harass, annoy or disturb manatees. The state of Florida has also established a number of cautionary and regulatory speed zones to protect the manatee and its habitat. Please obey all manatee protection laws! Click here for more information about manatees.
What boaters can do…
Wear polarized sunglasses while operating a boat.
Be alert to signs of manatee presence such as swirls, or the tip of the snout breaking the water when surfacing to breath.
Stay within marked channels. Avoid shallow grass beds where manatees feed and rest.
Follow all posted speed zones and caution signs. Manatees move slowly and have trouble evading boats at higher speeds.
DO NOT ENTER a manatee sanctuary for any reason. Designated manatee sanctuaries are closed to all waterborne activities including fishing.
DO NOT FEED, PURSUE or CHASE manatees while boating or swimming. This is defined as harassment and is against the law.
Stow your trash and retrieve any discarded fishing line and hooks. Manatees can be injured or killed by swallowing plastic debris or becoming entangled in abandoned monofilament or trap line.
Report injured, dead or tagged manatees to the FWC Law Enforcement at 1-888-404-FWCC or VHF Channel 16, and to the Chassahowitzka National Wildlife Reserve.
Protecting Seagrass
Seagrass is a vital nursery and feeding area for fish and other marine animals. Please protect them!
Do not operate your boat in areas that are too shallow for your equipment.
Use nautical chartsand tide tables to plan your course.
Never cut through seagrass beds with a propeller. Watch your prop wash for mud or plant life which may indicate you are too shallow. Remember prop scars take years to recover!
Pole or use a trolling motor when traveling across fishing flats. Quiet fishermen catch more fish.
If you run aground, turn off your engine! Raise the motor and push or pole your way to deeper water. If necessary, wait for high tide to move your boat.
Do not crowd another boat. If you see another boat fishing on the flats, do not approach unless beckoned.
Seagrasses are flowering underwater plants that form expansive grass beds in the shallow coastal waters of Citrus County. Seagrass beds provide nursery grounds for many commercially and recreationally important species… including fish, crabs, shrimp, and scallops who can hide among the blades and feast upon decaying leaves. Seagrasses also help stabalize the bottom sediments and improve water quality by trapping fine sediments and particles.
Seagrasses can be destroyed by a host of human activities. For example seagrasses need light to produce their own food through photosynthesis, but increased amount of sediments and nutrients in runoff from developed and agricultural land have clouded waters and reduced the light available to seagrasses. Careless boating activity has also damaged grass beds. Propellers carve muddy trenches through these shallow areas, which may then stay barren for years.
Salt Marshes, which are composed of salt-tolerant rushes, sedges, and grasses, occur along the shoelines of estuaries in Citrus County, where wave action is minimal. These marshes, which routinely become submerged, nourish and protect many fish and animals.They also help buffer upland areas from storms and filter pollutants that run off the land. Swamps and marshes store the floodwaters from heavy rains and slowly release them into streams, rivers and bays. Dense growth along estuary shorelines helps to absorb the force of rising waters and wave energy during storms, and the extensive root systems bind the soil, thus helping prevent erosion.
Hardbottom habitats are composed of solid, exposed rock substrate or rubble. They are of low-relief and often covered with a thin layer of sediment. Hardbottom habitats support numerous species of soft corals, stony corals, macroalgae, sponges, and other marine life. The crevices and solution holes in hardbottom habitats offer necessary refuge to many juvenile organisms. Fishes, crabs and turtles commonly reside and feed in hardbottom areas.
Mangroves are tropical trees that have adapted to living at the edge of the marine environment and can be found along the Citrus County coastline. Mangrove roots anchor shorelines, and their branches serve as nesting sites for a wide variety of birds. They form the basis of the detrital food chain and provide nutrition and cover for many fish and other marine organisms. In order to protect mangroves, state and federal regulations restrict their pruning and removal.
Three species of mangroves can be found in Citrus County. Red mangroves, typically located closest to the water, are easily distinguished by their tangled reddish prop roots that branch out over the water. Black mangroves have numersous finger-like projections, called pneumatophores, around the base of the tree, which are used for gas-exchange. White mangroves often occupy the highest elevations of the three species and have no visible root system.