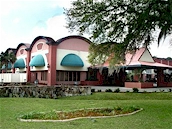 The Bella Oasis Inn and Spa is right next door to the Homosassa Springs Wildlife Park which makes it very convenient. Spa and fitness center on location with Manatee Tours, Golfing and Fishing only minutes away. Schtippy Chippola's Bistro is located on site with a mouth-watering menu. Not to mention the swimming pool and pool tiki bar. The Bella Oasis is great for a weekend getaway or even a family vacation.
Get Rates or Book Online
Contact Info:
Bella Oasis Inn and Spa
4076 South Suncoast Blvd.
Homosassa Springs Fl. 34446
352-628-4311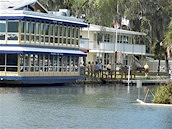 The Homosassa Riverside Resort is situated on the banks of the Homosassa River. The resort is a great place to relax and have fun! There are endless activities such as river tours, manatee tours, fishing charters and more. You can share a sunset and riverside cocktail or just spend time dreaming by the pool. Your likely to be entertained by the antics of the monkeys on Monkey Island, manatees in the river or passing dolphins!
The waterfront resort has one and two-bedroom riverfront rooms and suites complete with balconey or patio. You can bring your boat and pay a small fee for ramp use and boat slip space. Some of the other on-site amenities include…
Riverside Crab House
The beautiful, family-friendly, main dining room has floor to ceiling windows overlooking the Homosassa River. Fresh blue crabs caught from the river by local fisherman are served daily.
Yardarm Lounge
Citrus County's oldest and most favorite riverside lounge. Floor to ceiling glass, second story panoramic view of the Homosassa River. Featuring entertainment and history. Make new friends while enjoying your favorite cocktail at the 65′ cooper bar. What a beautiful slice of local history.
The Monkey Bar
Fun in the trees! This double-decker tiki bar overlooks our very own Monkey Island. Enjoy cool island drinks and entertainment while watching the antics of the monkeys, the passing dolphins, the jumping tarpon, playful otters, manatee, and many native birds… including Bald Eagles.  Oh yes, and the people.
Contact Info:
Homosassa Riverside Resort
5297 S. Cherokee Way, Homosassa, FL 34448
800-442-2040
352-628-2474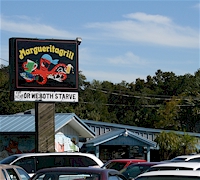 UPDATE:  Marguerita Grill burned to the ground on July 25, 2011. No injuries were report. The owners have not decided to rebuild as of yet. :END UPDATE
Visit Marguerita Grill for waterfront dining in Homosassa. Enjoy seafood and certified black angus steaks and chicken dishes. We hear that the home-made dressing is delicious. Try a Ceasar Salad with blackened salmon. Yum! I've been here a few times and I really enjoy the rustic setting and you can dine out back near the water and watch the boats go by. Home of the Jumbo Marguerita and friendly people. Come by car or come by boat. Either way you're in for a treat.
Contact Info:
Marguerita Grill
10200 Halls River Road
Homosassa, Florida 34448
352-628-1336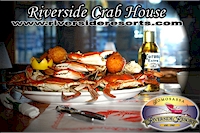 Featuring Prime Rib, Chicken Marsala or the Fresh Catch of the Day. All entrees are served with freshly baked dinner rolls, tossed Caesar salad and a baked potato.
Riverside Crab House Restaurant
Yardarm Lounge & the Monkey Bar

RESTAURANT DINING
Breakfast Saturday & Sunday 7am til 10:30am
Lunch Monday thru Sunday: 11am til 4pm
Dinner Sunday thru Thursday 4pm til 9pm
Friday & Saturday 4pm til 10pm
LOUNGE, UPPER DECK & THE MONKEY BAR
Sunday thru Thursday 11am til 10pm
Friday & Saturday 11am til 11pm
Our Specials
HAPPY HOUR 3PM TIL 7PM
$1.00 Budlight & Miller Light Drafts
$2.00 Domestic Bottled Beer
$2.00 Wells
$3.00 Import Bottled Beer
All you can eat Fish & Chips $8.95
MONDAY through FRIDAY 11am to 4pm
Steak Night! –  ONLY $12.95
12 oz. Delmonico steak grilled over open charcoal flames served with red bliss potatoes and corn on the cob.
WEDNESDAY NIGHTS 5pm to 9pm
Crab Specials
Soft Shell Blue Crab, King, Snow and Dungeness Crab
Dinner & River Cruise $24.95
Enjoy a hour long narrated river tour, by one of our USCG licensed Captains, on our 48 passanger pontoon boat. Return to our restaurant and dine on your choice of Prime Rib, Chicken Marsala or the Fresh Catch of the Day. All entrees are served with freshly baked dinner rolls, tossed Caesar salad and a baked potato.
EVERYDAY 2:00pm, 4:00pm and 6:00pm
CONTACT INFO:
Homosassa Riverside Resort
5297 S. Cherokee Way
Homosassa, FL 34448
352-628-2474
800-442-2040