Manatee Tours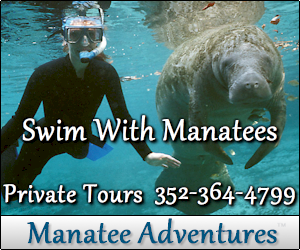 Manatee Adventures : 352-364-4799
The Ultimate Manatee Experience
Swim with manatees in the wild… Enjoy a thrilling river cruise to the natural habitat of the Crystal River Manatees. Your group will embark on a breathtaking tour to the clear natural springs and then play in the water with our gentle friends. We provide only private manatee tours for your group, while other tours pack you on a boat with several other groups.
Capt. Greg has over 25 years of experience. His Manatee Adventure offers the most enjoyable and educational tour available. All gear included. Please Call Manatee Adventures … 352-364-4799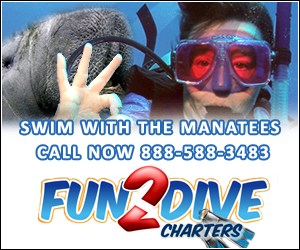 Fun 2 Dive Manatee Tours
888-588-3483
Swim with Manatees in Homosassa or Crystal River Florida. The most experienced manatee tour guides in the business will take you on an unforgettable tour where you'll get up close and personal with the manatees.
Our full day, all-inclusive manatee tours can be enjoyed by the whole family and no experience is needed. Not only will you spend all day with the manatees, we will educate you about the manatees during your tour.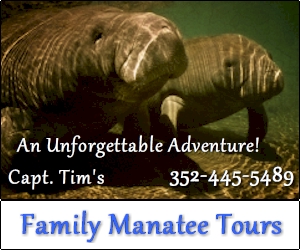 Family Adventure Manatee Tours
352-445-5489
Exciting manatee tours in Homosassa & Crystal River. Our manatee tours provide unforgettable fun for the entire family! Our tour boats are carefully equipped for your comfort and enjoyment. Join us as we embark on a wonderful adventure to the clear spring-fed waters and popular habitat of the Florida Manatee.
Our tours are designed to provide the most enjoyable memories for your group or family. Walk-ins and last minute requests are welcome. For best rates and times, please call Capt. Tim at 352-445-5489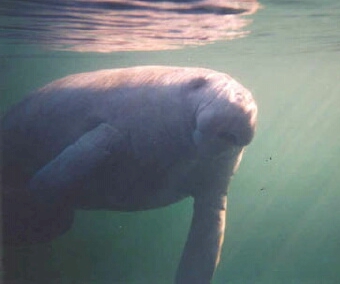 Manatees of Homosassa Florida
The West Indian Manatee, or it's Florida species, the Florida Manatee, is a large, plant-eating aquatic mammal that is commonly found in the shallow coastal waters, rivers, canals, and springs of Florida. Manatees range in color from gray to brown. They are shaped like a seal and have flat, rounded tails. The upper part of it's body has two small forelimbs with three to four nails on each flipper. The head and face are usually wrinkled and the snout has stiff whiskers. Manatees have been known to hold their breath for as long as 20 minutes but usually surface about every 5 minutes to breathe. Adult manatees are an average of 10 feet long and 1,200 pounds, but they can grow up to 15 feet long and weigh as much as 3,000 pounds! The largest aggregation of manatees in Citrus County are found during the winter months in the Blue Waters area of Homosassa and around the springs in Kings Bay at Crystal River, where they are afforded special protection in the Crystal River National Wildlife Refuge.
The minimum population is estimated between 2,500 to 3,000. However, continued coastal development and habitat loss threatens the manatees survival. High mortality, primarily associated with human activity, as well as a low reproductive rate and loss of habitat continue to threaten the future of the species. Manatees are endangered marine mammals, protected by the federal Marine Mammal Protection Act of 1972 and the Endangered Species Act of 1973. It is illegal to hunt, capture, kill, harass, or disturb manatees.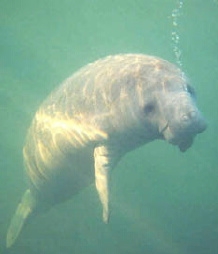 Protecting Manatees
Citrus County plays a vital role in meeting the challenge of protecting the endangered manatee. Citrus County residents actively protect the manatee and the county's natural resources. Citrus County became the first county in the state to adopt a countywide , comprehensive manatee protection plan. This plan includes education, habitat protection, boat facility policies, and manatee protection speed zones. Seven of the county's rivers are designated as Outstanding Florida Waters and provide habitat that is essential to the survival of the manatee.
Wear polarized sunglasses while operating a boat.
Be alert to signs of manatee presence such as swirls, or the tip of the snout breaking the water when surfacing to breath.
Stay within marked channels. Avoid shallow grass beds where manatees feed and rest.
Follow all posted speed zones and caution signs. Manatees move slowly and have trouble evading boats at higher speeds.
DO NOT ENTER a manatee sanctuary for any reason. Designated manatee sanctuaries are closed to all waterborne activities including fishing.
DO NOT FEED, PURSUE or CHASE manatees while boating or swimming. This is defined as harassment and is against the law.
Stow your trash and retrieve any discarded fishing line and hooks. Manatees can be injured or killed by swallowing plastic debris or becoming entangled in abandoned monofilament or trap line.
Report injured, dead or tagged manatees to the FWC Law Enforcement at 1-888-404-FWCC or VHF Channel 16, and to the Chassahowitzka National Wildlife Reserve.