Diving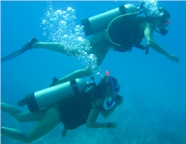 Homosassa, Crystal River and the Citrus County area is a diving and snorkeling paradise. The springs and rivers offer an enjoyable experience for everyone, from novice to experienced divers.
The Crystal River and it's King Bay springs is probably the most popular dive destination. The spring is the main source of the river and it's basin is about 75 ft. in diameter and 28 ft. in depth. It's the perfect dive for beginners.
For the more experienced divers there's a cavern that dips to a depth of 50 ft. with good visibility since you're still receiving natural daylight illumination.
Divers and snorklers in these coastal Citrus County waters, frequently get the opportunity to observe manatees in their natural habitat.