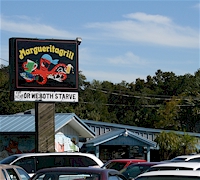 Visit Marguerita Grill for waterfront dining in Homosassa. Enjoy seafood and certified black angus steaks and chicken dishes. We hear that the home-made dressing is delicious. Try a Ceasar Salad with blackened salmon. Yum! I've been here a few times and I really enjoy the rustic setting and you can dine out back near the water and watch the boats go by. Home of the Jumbo Marguerita and friendly people. Come by car or come by boat. Either way you're in for a treat.
Marguerita Grill | Homosassa FL | Facebook
Contact Info:
Marguerita Grill
10200 Halls River Road
Homosassa, Florida 34448
352-628-1336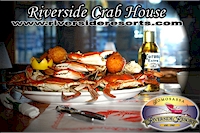 Featuring Prime Rib, Chicken Marsala or the Fresh Catch of the Day. All entrees are served with freshly baked dinner rolls, tossed Caesar salad and a baked potato.
Riverside Crab House Restaurant
Yardarm Lounge & the Monkey Bar

RESTAURANT DINING
Breakfast Saturday & Sunday 7am til 10:30am
Lunch Monday thru Sunday: 11am til 4pm
Dinner Sunday thru Thursday 4pm til 9pm
Friday & Saturday 4pm til 10pm
LOUNGE, UPPER DECK & THE MONKEY BAR
Sunday thru Thursday 11am til 10pm
Friday & Saturday 11am til 11pm
Our Specials
HAPPY HOUR 3PM TIL 7PM
$1.00 Budlight & Miller Light Drafts
$2.00 Domestic Bottled Beer
$2.00 Wells
$3.00 Import Bottled Beer
All you can eat Fish & Chips $8.95
MONDAY through FRIDAY 11am to 4pm
Steak Night! –  ONLY $12.95
12 oz. Delmonico steak grilled over open charcoal flames served with red bliss potatoes and corn on the cob.
WEDNESDAY NIGHTS 5pm to 9pm
Crab Specials
Soft Shell Blue Crab, King, Snow and Dungeness Crab
Dinner & River Cruise $24.95
Enjoy a hour long narrated river tour, by one of our USCG licensed Captains, on our 48 passanger pontoon boat. Return to our restaurant and dine on your choice of Prime Rib, Chicken Marsala or the Fresh Catch of the Day. All entrees are served with freshly baked dinner rolls, tossed Caesar salad and a baked potato.
EVERYDAY 2:00pm, 4:00pm and 6:00pm
CONTACT INFO:
Homosassa Riverside Resort
5297 S. Cherokee Way
Homosassa, FL 34448
352-628-2474
800-442-2040