Manatee Adventures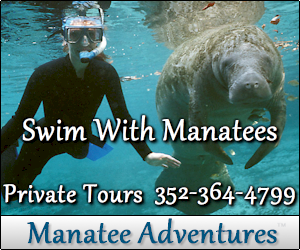 Manatee Adventures : 352-364-4799
The Ultimate Manatee Experience
Swim with manatees in the wild… Enjoy a thrilling river cruise to the natural habitat of the Crystal River Manatees. Your group will embark on a breathtaking tour to the clear natural springs and then play in the water with our gentle friends. We provide only private manatee tours for your group, while other tours pack you on a boat with several other groups.
Capt. Greg has over 25 years of experience. His Manatee Adventure offers the most enjoyable and educational tour available. All gear included.
… Call Manatee Adventures … 352-364-4799