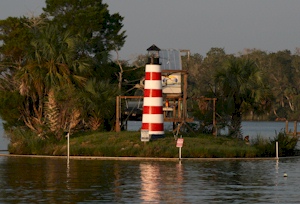 Monkey Island sits in the middle of the Homosassa river and is inhabited year-round by a small family of monkeys. The island is owned by The Homosassa Riverside Resort. They care for the monkeys and feed them regularly. You can get an up-close look from a boat and take pictures or you can see Monkey Island from the resort grounds. You can also see the island from the public boat ramp next to MacRae's but you'll need binoculars to view the monkeys from there.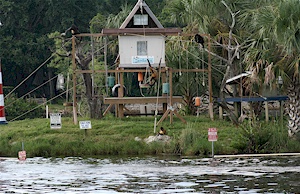 Story has it that G.A. (Furgy) Furgason, also known as "Mr. Homosassa" because of his planning and directing of much of the areas surroundings, worked 36 years with Bruce A. Norris of the Norris Cattle Company until his retirement in 1983. They negotiated deals to buy the land where the Yardarm Lounge, the Riverside Resort and the Riverside Crab House, the Wildlife Park, the Crow's Nest, Sugarmill Woods, and Riverhaven Village now sit.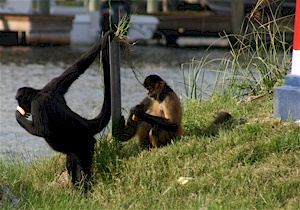 Mr. Furgason said he ran into the late Dr. John N. Hamlet in Rapid City and convinced the naturalist to come to Florida. Upon his arrival, Dr. Hamlet was hired by Weekie Wachee as a naturalist and subsequently was hired by Furgy. Dr. Hamlet had captured monkeys and brought them to America where they were used to perfect the polio vaccine.
Monkey Island was just a pile of rocks in the 1960's that took the bottoms right out of boats during high tide. Furgy went to Africa on Norris Cattle business leaving instructions for the dragline operator, working for him on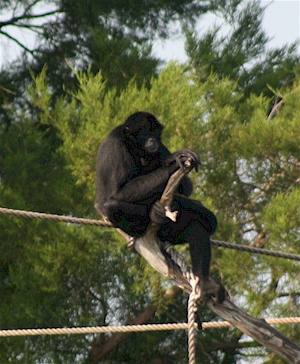 the Crow's Nest, "pull some dirt around those rocks so the boaters can see it better". When he got back to Homosassa, the dragline operator had piled so much dirt and rocks up that he had succeeded in building a barren island right outside the Yardarm.
Having no idea what to do with this horrible eyesore, he decided to build a lighthouse on it. He then started thinking about the monkeys along the canal at the Attraction. There were some that were rather difficult, always escaping and getting into visitors cars, stealing candy and biting tourists. He said he had often thought of sending them to Alcatraz and decided the island would be perfect. He put three spider monkeys and two squirrel monkeys on the island with some huts and some trees.
The first island monkeys lasted 12 years before they began to die and were replaced with younger monkeys. The island turned out to be a big attraction for the visitors and became known as Monkey Island.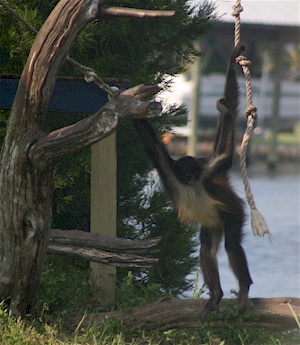 Palm trees were planted but the monkeys kept eating the palm hearts, which caused the trees to die. Cedars replaced them and prospered.
Today there are five spider monkeys on the island. There is Ralph, the alpha male, Sassy, the matriarch and Ebony, their offspring plus two of the newest female adoptions of Eve and Emily. The two squirrel monkeys, Tiny and Tim, died of old age in 2003. New houses, play toys and enhancement features are always being added for their amusement. Visitors to our river are a constant source of entertainment for the monkey family.
Even though the ownership of the property with island has changed over the years, the monkeys have always been under the care of the owners. The monkeys are fed twice a day from a menu designed specifically for them and consisting of green leafy vegetables, bananas, oranges, sweet potatoes, raw peanuts and monkey chow.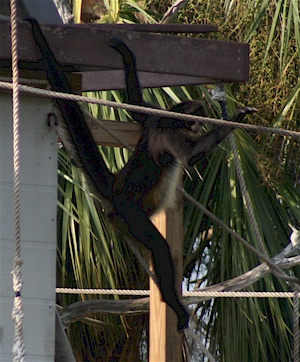 They remain on the island because they prefer not to swim and the river acts as a natual barrier. Today they still delight the Yardarm and hotel guests with their playful antics.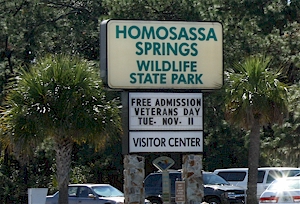 Homosassa is a Native American Creek word meaning "place of many pepper plants". Before the white man came, this area was home to the Creek and Seminole Indians. Recent digs have uncovered all sorts of native artifacts including canoes. At that time this area was a low lying vast swamp spotted with small islands and many natural springs of crystal clear pure fresh water. Millions of
gallons of fresh water per hour pour out of these springs which creates the beautiful contributory creeks and rivers.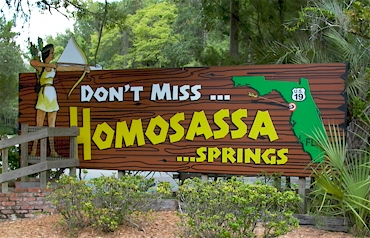 The Homosassa Springs Wildlife State Park began with one mans first impressions. In 1924 Mr. Bruce Hoover, of Chicago visited by railroad the head spring of the Homosassa River and said "this is the most beautiful river and springs in the world". Afterwards he had a wooden bridge and two higher observatory decks built spanning the springs head, then dubbed the term still used today, he declared this place a true "wonder of the world" and a natural "fish bowl". Nearby there was a small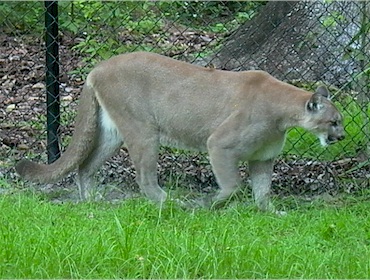 building that rented bathing suits to the people visiting on the train and people of brave heart would swim in the lagoon
with the fish. At that time period there are no references to the manatees at all.
Today the Homosassa Springs Wildlife State Park has become far more than just a two hundred and ten acre wildlife preserve operated by the state of Florida with the help of an average of three hundred and fifty volunteers. It has been given the highest award for quality of care twice and has grown into one of the finest wildlife
rehabilitation centers in the nation.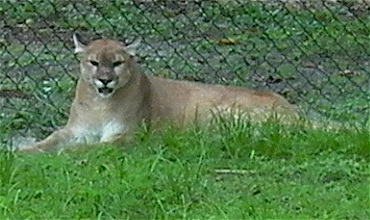 The Felburn wildlife care center, a cutting edge state-of-the-art care facility which was created with funds donated by the Felburn foundation and matched by the state was just recently opened. Already in full operation at the wildlife park is the manatee rehabilitation area for the care of injured and sick manatees. The manatee abuse hot line toll free number is 1-800-342-5367 or call the local marine patrol. More Later.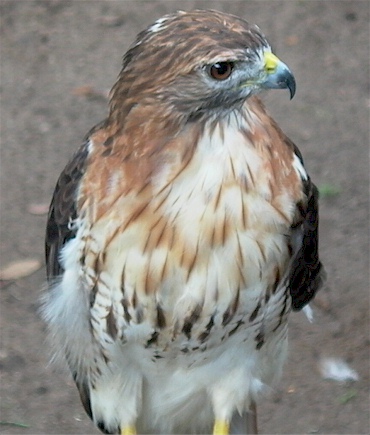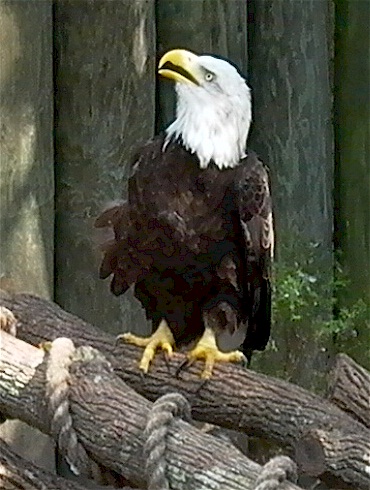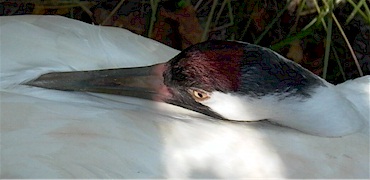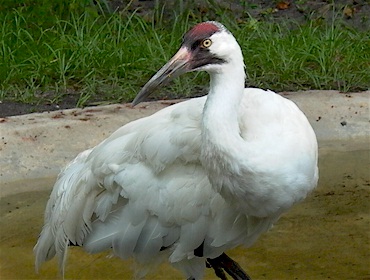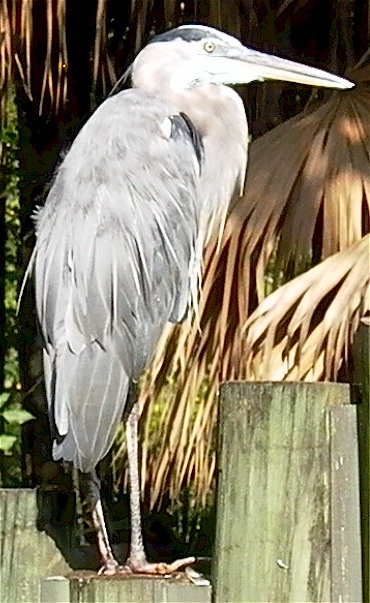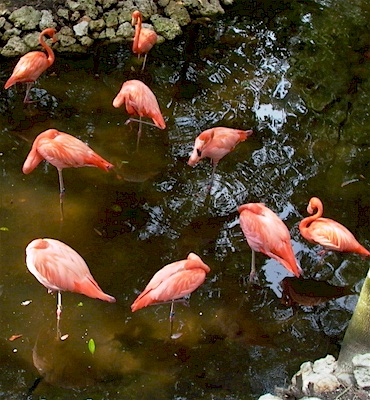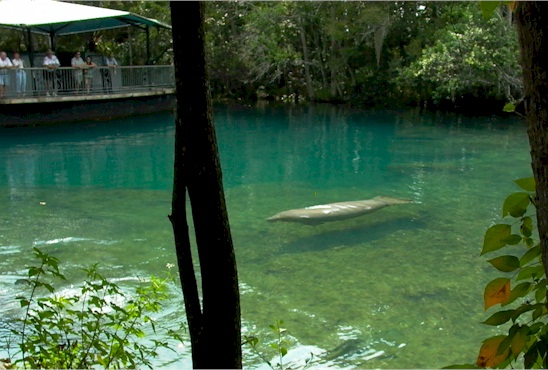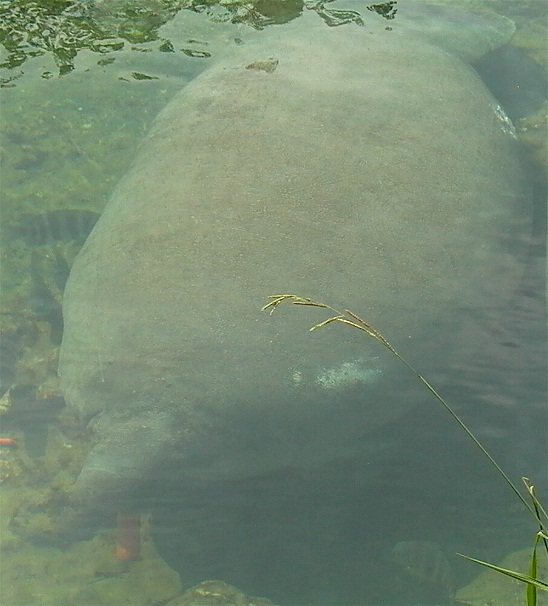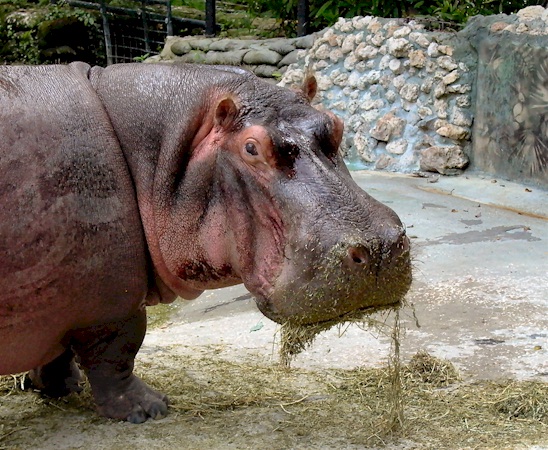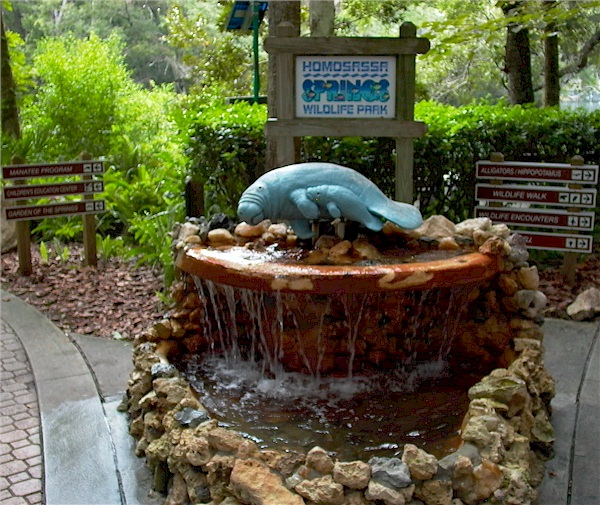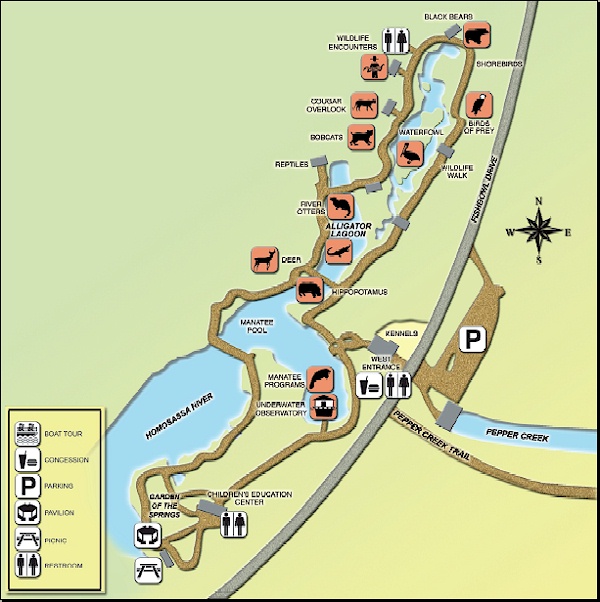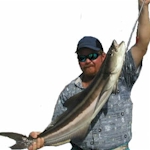 Capt. Charlie is a 3rd generation native of the Homosassa area.  "I specialize in fishing for inshore species such as Redfish, Tarpon, Trout and Cobia."
If you'd like to charter a guide to go Florida flats fishing in the Homosassa Springs area, you have come to the right place.  Homosassa Redfishing is my specialty.  We cater to both the light spinning tackle and Fly Fishermen. 
"I have been fishing these Homosassa waters for 25 years as both a commercial fisherman and a charter captain.  The many years that I have spent commercial fishing these waters have made me quite knowledgeable about the West Central Florida Big Bend area.  I know Florida flats fishing in this area extremely well.  This knowledge lets me place my clients on to fish at the right time, tide and place."
CONTACT INFO:
Captain Charlie Harris
Cell 352-634-4309
Home 352-621-5066
Calendar of Events for Homosassa and the Citrus County Area
Citrus Springs Middle School Falcon Family Festival – March 10, 4:30-7:30
All proceeds to benefit local families in need. The festival will be held Thursday March 10th, 2011 from 4:30 to 7:30pm at CSMS. Ticket price of $2 includes access to concessions, carnival games and music by our own CSMS band.
Crystal River Triathlon Series
Fort Island Gulf Beach Park. Swim, Bike & Run. For more info visit www.drcsports.com
Market Day at Heritage Village
The market will be held on the second Saturdays of the month. We invite the public to stroll the grounds while enjoying outdoor music. Support local businesses by shopping at our specialty shoppes downtown. You will find fresh produce, herbs, flowers and plants, seafood, fine arts and antiques. Demonstrations are encouraged. Enjoy the Experience at Heritage Village, on Citrus Avenue in the Heart of Historic Downtown Crystal River. For more information or to become a vendor, contact Laura Lou at 352-564-1400
Citrus County Genealogical Society Meeting 
The Citrus County Genealogical Society will meet at the Church of Jesus Christ and the Latter Day Saints, 3474 W. Southern St., Lecanto, FL. There will be an informal genealogy question and answer session. Many of our members have expertise in a variety of areas of genealogy and can answer your questions. Bring your questions and learn from the discussions. Guests are welcome to attend. Call Mar Ann at 382-5515 for more information.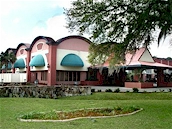 The Bella Oasis Inn and Spa is right next door to the Homosassa Springs Wildlife Park which makes it very convenient. Spa and fitness center on location with Manatee Tours, Golfing and Fishing only minutes away. Schtippy Chippola's Bistro is located on site with a mouth-watering menu. Not to mention the swimming pool and pool tiki bar. The Bella Oasis is great for a weekend getaway or even a family vacation.
Get Rates or Book Online
Contact Info:
Bella Oasis Inn and Spa
4076 South Suncoast Blvd.
Homosassa Springs Fl. 34446
352-628-4311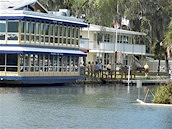 The Homosassa Riverside Resort is situated on the banks of the Homosassa River. The resort is a great place to relax and have fun! There are endless activities such as river tours, manatee tours, fishing charters and more. You can share a sunset and riverside cocktail or just spend time dreaming by the pool. Your likely to be entertained by the antics of the monkeys on Monkey Island, manatees in the river or passing dolphins!
The waterfront resort has one and two-bedroom riverfront rooms and suites complete with balconey or patio. You can bring your boat and pay a small fee for ramp use and boat slip space. Some of the other on-site amenities include…
Riverside Crab House
The beautiful, family-friendly, main dining room has floor to ceiling windows overlooking the Homosassa River. Fresh blue crabs caught from the river by local fisherman are served daily.
Yardarm Lounge
Citrus County's oldest and most favorite riverside lounge. Floor to ceiling glass, second story panoramic view of the Homosassa River. Featuring entertainment and history. Make new friends while enjoying your favorite cocktail at the 65′ cooper bar. What a beautiful slice of local history.
The Monkey Bar
Fun in the trees! This double-decker tiki bar overlooks our very own Monkey Island. Enjoy cool island drinks and entertainment while watching the antics of the monkeys, the passing dolphins, the jumping tarpon, playful otters, manatee, and many native birds… including Bald Eagles.  Oh yes, and the people.
Contact Info:
Homosassa Riverside Resort
5297 S. Cherokee Way, Homosassa, FL 34448
800-442-2040
352-628-2474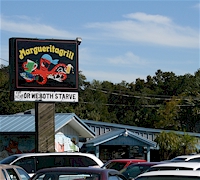 UPDATE:  Marguerita Grill burned to the ground on July 25, 2011. No injuries were report. The owners have not decided to rebuild as of yet. :END UPDATE
Visit Marguerita Grill for waterfront dining in Homosassa. Enjoy seafood and certified black angus steaks and chicken dishes. We hear that the home-made dressing is delicious. Try a Ceasar Salad with blackened salmon. Yum! I've been here a few times and I really enjoy the rustic setting and you can dine out back near the water and watch the boats go by. Home of the Jumbo Marguerita and friendly people. Come by car or come by boat. Either way you're in for a treat.
Contact Info:
Marguerita Grill
10200 Halls River Road
Homosassa, Florida 34448
352-628-1336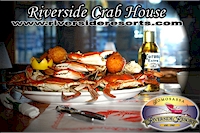 Featuring Prime Rib, Chicken Marsala or the Fresh Catch of the Day. All entrees are served with freshly baked dinner rolls, tossed Caesar salad and a baked potato.
Riverside Crab House Restaurant
Yardarm Lounge & the Monkey Bar

RESTAURANT DINING
Breakfast Saturday & Sunday 7am til 10:30am
Lunch Monday thru Sunday: 11am til 4pm
Dinner Sunday thru Thursday 4pm til 9pm
Friday & Saturday 4pm til 10pm
LOUNGE, UPPER DECK & THE MONKEY BAR
Sunday thru Thursday 11am til 10pm
Friday & Saturday 11am til 11pm
Our Specials
HAPPY HOUR 3PM TIL 7PM
$1.00 Budlight & Miller Light Drafts
$2.00 Domestic Bottled Beer
$2.00 Wells
$3.00 Import Bottled Beer
All you can eat Fish & Chips $8.95
MONDAY through FRIDAY 11am to 4pm
Steak Night! –  ONLY $12.95
12 oz. Delmonico steak grilled over open charcoal flames served with red bliss potatoes and corn on the cob.
WEDNESDAY NIGHTS 5pm to 9pm
Crab Specials
Soft Shell Blue Crab, King, Snow and Dungeness Crab
Dinner & River Cruise $24.95
Enjoy a hour long narrated river tour, by one of our USCG licensed Captains, on our 48 passanger pontoon boat. Return to our restaurant and dine on your choice of Prime Rib, Chicken Marsala or the Fresh Catch of the Day. All entrees are served with freshly baked dinner rolls, tossed Caesar salad and a baked potato.
EVERYDAY 2:00pm, 4:00pm and 6:00pm
CONTACT INFO:
Homosassa Riverside Resort
5297 S. Cherokee Way
Homosassa, FL 34448
352-628-2474
800-442-2040
Click here to view the photo gallery.
Links For Marine Weather Forecast