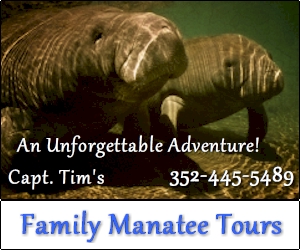 Family Adventure Manatee Tours
352-445-5489
Exciting manatee tours in Homosassa & Crystal River. Our manatee tours provide unforgettable fun for the entire family! Our tour boats are carefully equipped for your comfort and enjoyment. Join us as we embark on a wonderful adventure to the clear spring-fed waters and popular habitat of the Florida Manatee.
Our tours are designed to provide the most enjoyable memories for your group or family. Walk-ins and last minute requests are welcome.
We are  approximately 70 miles North of the Tampa, St. Petersburg area or 50 miles South West of Gainesville Florida, right on Florida's Gulf Coast.
For best rates and times, please call Capt. Tim at 352-445-5489